PEAK 2 BREW: RULES & REGULATIONS
Our #1 priority for all Peak 2 Brew Events is to ensure Team and Runner safety on the course and throughout the event. We want everyone to have a fun and amazing experience and be safe while doing so.
Please be sure everyone on your Team familiarizes themselves with the Rules and Regulations of the Peak 2 Brew Relay Events (attached below). If at anytime the Rules and Regulations set forth by the event are broken you and your Team may be disqualified from the event.
If you have any questions on the Rules & Regulations please contact us at: Peak2Brew@P2BRelay.com
---
EMERGENCIES:
Serious emergency call 911, then contact RACE COMMAND: 315-320-6580
See 'Emergency Contact' Information in BREW BOOK
KEY SAFETY INFORMATION:
OBEY ALL TRAFFIC LAWS AND ALWAYS YIELD TO TRAFFIC WHILE RUNNING!!

NO roads are being closed for the event and you will be running on open roads

Yield to all traffic & Cross the road at designated crosswalks (If Available)

Run on the LEFT side of the road (against traffic) unless directed otherwise

DO NOT consume alcohol while traveling along the course…Save the alcohol for the FINISH

Be aware that certain portions of the P2B Courses DO NOT have Cell Service

Enter your Exchange Time into online 'TEAM TIME TRACKER' once back in Service

SLEEP IN DESIGNATED SLEEP AREAS ONLY: Absolutely no sleeping in parking lots outside of your van

If you see a Team cheating or violating any rules send a text message to RACE COMMAND

WHILE RUNNING: Where your BIB secured to front of shirt or shorts on outermost layer of clothing

The use of Headphones in ears while running on the course is NOT ALLOWED

Vehicles are in NO situation allowed to follow directly behind runner

AGGRESSIVE WILDLIFE / ANIMAL: Get your runner off the road and into your support vehicle ASAP and notify RACE COMMAND

Have a Lost Runner? If you believe your runner is lost text RACE COMMAND

In the event of dangerous weather conditions during the race or at the Start/finish Line, immediately seek shelter and await instructions from the Peak to Brew Staff or National Weather Service
REQUIRED SAFETY EQUIPMENT:
FROM 7:00 PM – 7:00 AM
REFLECTIVE VESTS (ANSI Class 2) – One for each person in Van

REQUIRED: Reflective Material across SHOULDER + WAIST/CHEST

ALL RUNNERS: If Outside of Van during Night Time Hours

HEADLAMPS OR FLASHLIGHTS – 2 per Van (Active Runner MUST Wear)

LED TAIL LIGHTS – 2 per Van (Active Runner MUST Wear)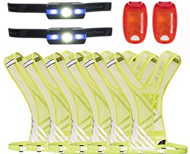 EXCHANGES & EXCHANGE VOLUNTEERS:
Protocol for Exchanges:
Follow the Course Map Directions & Exchange Map Layout

Look for Course Signs and Van signs

Park in designated Parking Area shown on Maps

Transition to next Runner in Designated Transition Area

Enter Time Runners Exchange in online 'TEAM TIME TRACKER'